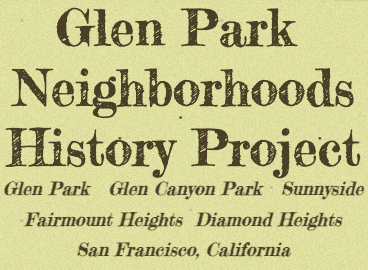 The neighborhoods of Glen Park, Glen Canyon, Sunnyside, Fairmount Heights, and Diamond Heights, located immediately south of Twin Peaks in San Francisco, have rich and diverse histories at risk of being forgotten with the passage of time and generations. The Glen Park Neighborhoods History Project works to rediscover our forgotten histories, document our living histories, and to share our histories with others to help preserve these histories for this and future generations.
Inspired by the efforts of other neighborhood history projects in San Francisco, the Glen Park Neighborhoods History Project was organized in 2014. Most members are residents of our neighborhoods, but anyone is welcome to participate and join the project.
Check out Events to learn more about exciting upcoming activities, including walking tours, featured public talks, and the Gum Tree Girls Festival in July 2022!