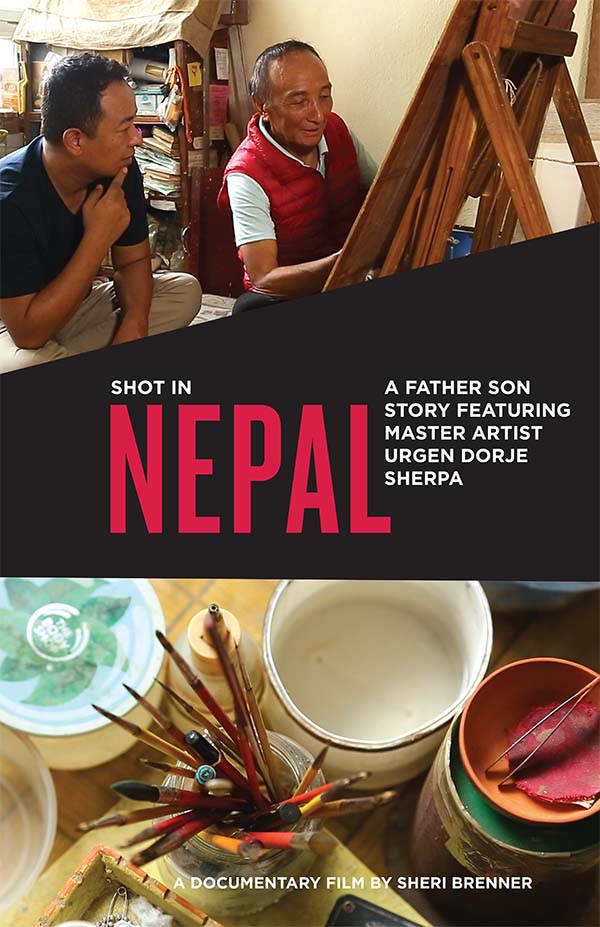 Above and Below is a short documentary by Sheri Brenner that tells the story of Tsherin Sherpa, a Tibetan Buddhist painter who comes to San Francisco from Kathmandu, Nepal, and struggles to reinvent himself to fit his new surroundings. In doing so, he skyrockets a career as a modern artist and launches a new movement in Tibetan art. The film is in final stage of post-production and seeking completion funding for upcoming museum screenings.
"There are spirits of the mountain, spirits of the water.   What if those spirits were gone?  Gone because everyone had moved to different places?  How would they cope with the new environment?"  

- Tsherin Sherpa
Sheri Brenner, the film's Director, met Tsherin during a visit to the San Francisco Asian Art Museum. He was demonstrating thangka painting. She was enthralled by his work and they spoke about making a short film. Tsherin recommended that Sheri film his father, Urgen Dorje Sherpa, a master thangka painter known throughout the country. That began a project which spanned the next fifteen years in which Sheri filmed Tsherin in the United States and Urgen Dorje Sherpa in Nepal, gaining rare insight into the real world of Tibetan sacred art and lives of its artist.
"It was an honor to have a privileged look into the lives of these two artistic masters and teachers. I knew in my heart that others would also want to enter the sanctum of Buddhist art through this film. My hope is to share a piece of their world with the audience." 

- Sheri Brenner