Marina Elana began training in Spanish classical dance and flamenco at a young age in the San Francisco Bay Area with Adela Clara and continued with La Mónica and Yaelisa. She then studied extensively in Sevilla and Madrid with artists such as Belen Maya, Isabel Bayón, and Soledad Barrio. 
Marina has performed professionally over the past fifteen years with companies such as Theatre Flamenco of San Francisco, Maria Benitez's Teatro Flamenco, and Yaelisa & Caminos Flamencos. She has been a company member of the renowned Soledad Barrio & Noche Flamenca since 2012 and has toured extensively nationally and internationally. She is the co-founder of Sintonía with Fanny Ara. Their first production, Tattooed, premiered at the historic Presidio Theatre in San Francisco in 2019. It was reviewed by dance critic Rene Renouf as "one of the most effective flamenco performances I have ever seen."
With Noche Flamenca, Marina has taught masterclasses in flamenco at Lincoln Center, The Joyce Theater and universities such as USC, UC Santa Barbara, University of Washington, Williams College and New York University in NYC and Abu Dhabi. In the Bay Area, Marina has been an artist in residence teaching classes at Theatre Flamenco of San Francisco and is a master teacher at The People's Conservatory in Oakland.
Marina has performed and presented her choreography in the Inside/Out Festival at Jacob's Pillow, New York International Fringe Festival, the Queensboro Dance Festival, and Stanford University's NEXT Performance Series. Marina also performed with the New York Bojaira Project in Granada and Sevilla, Spain, improvising with the flamenco jazz group to acclaimed reviews.
Marina graduated from Stanford University with a BA in Film & Media Studies specializing in "Avant-Garde Aesthetics and Performance." In 2023, Marina collaborated and starred in the short film, "Yellow Wallpaper," which will world premiere at the LA Shorts International Film Festival in Los Angeles this July.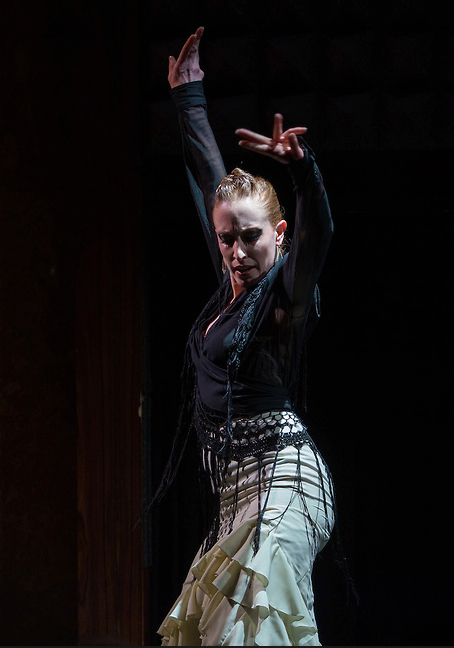 Photo Credit: Kevin Yatarola