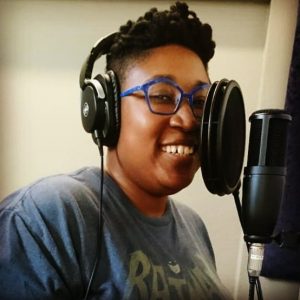 Uncaged Librarian Arts & Information lifts up stories that sustain the hearts and minds of social change workers.
In particular, we produce collaborative music, theater, film, and data projects that highlight the struggles and victories of LGBTQ people, people living with HIV, and people of color in our ongoing fights for dignity, existence, and liberation.
From 2016 to 2018, we co-wrote and produced Octavia of Earth, a biographical musical inspired by the life of science fiction writer Octavia E. Butler. 
In 2018 and 2019, we produced a studio album featuring the nine original songs created for Volume 1. 
In 2020 and beyond, we are adapting and expanding the piece into a standalone feature-length film.
Photos:  Adrian Jazz Applin plays Octavia E. Butler in Octavia of Earth